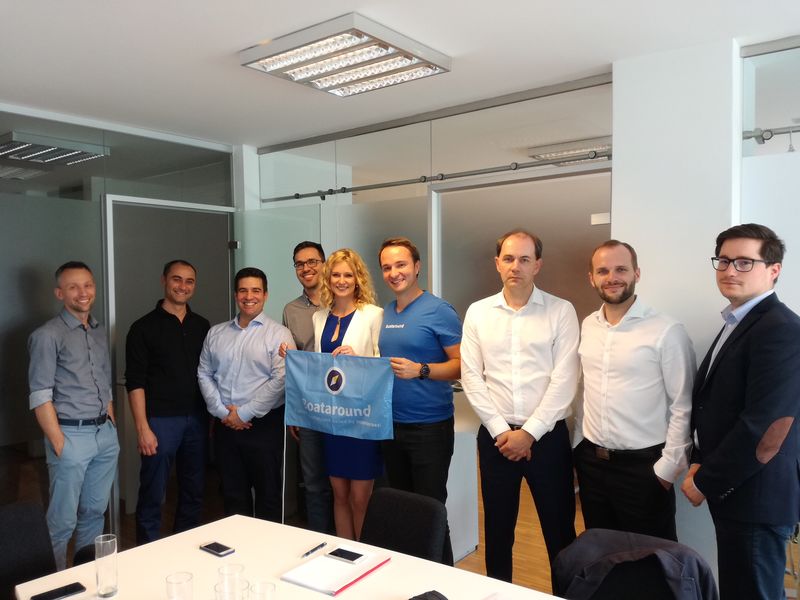 SIH invests in the Boataround.com global company
18.06.2018
Bratislava, 18th June 2018 – Investors registered on the Crowdberry platform and the Slovak Investment Holding Group signed an investment agreement with Boataround.com, which has developed and operates an online reservation system for the rental of yachts, motor boats and catamarans. With more than 10,500 boats in 485 destinations, the service is available all over the world. The investment will enable the company to continue its current very rapid growth in the global market and to further expand and improve its services.
Boataround brings digitisation, transparency and user-friendliness to the boat rental industry, which is now the standard for example when making an online booking. Over the past year, the company, with the help of its first investors from the Crowdberry investment platform, which enables private investors to jointly own Slovak and Czech companies, has seen rocket growth. The number of users, orders, number of destinations and ships that are directly involved in the system more than tripled. Over two years the 25-member team has been able to build its own IT, technology and service infrastructure.
"We have founded Boataround because we wish to build a brand that will be synonymous with simple, fast and affordable yachting around the world. Our goal is to make the unforgettable experiences at the seaside accessible to everybody and it is this agreement with investors which will help us. Our company's success is also built on the unrivalled customer service, for which we regularly receive the highest ratings. Thanks to the investment we will further improve our service, expand it to include a mobile application and open new yacht destinations," explains explains Pavel Pribiš, CEO and co-founder of Boataround.
Pavel Pribiš founded and launched Boataround together with Jana Escher. Both founders have more than 10 years of experience in e-commerce environment and services that they gained in the world's largest online accommodation booking system during their work at leading positions in Austria, Slovakia, in the Czech Republic, Hungary and Ukraine and in Asia.
"Boataround fundamentally changes its industry and has a global dimension. We have been working closely with the team since its founding and we believe that the current investment will further accelerate their current, very dynamic growth and we will continue to assist them on this path. Our investors are particularly interested in the high quality and enthusiasm of the company team combined with their excellent results. This mix promises an interesting investment valuation in the future. In this case we have also managed to provide "smart" investors who, thanks to their experience, will be able to support, together with us, a further growth of the company in a global environment. I am also very pleased with the decision of the Slovak Investment Holding to support the potential that we see in Boataround," said Michal Nešpor, the Crowdberry Start-up partner.
On part of the Slovak Investment Holding (SIH) it is a recoverable form of capital financing from the European Structural and Investment Funds, from the Operational Programme Research and Innovation. . SIH's investment has been prepared in cooperation with renowned external investment and consulting companies.
"We see the future of the Slovak economy in innovative enterprises providing products and services also on a global level, whereas Boataround is an excellent example of such a company" Ivan Lesay, SIH's General Director expressed his opinion.
Both SIH and Crowdberry are preparing further capital investments for innovative small and medium-sized businesses in Slovakia.
About Boataround
Boataround.com, a.s. is originally a Slovak company, today already with a global dimension, which has developed and operates a booking system for simple, clear and reliable rental of yachts, motor boats and catamarans with a global offer of over 10,500 ships in 485 destinations. As one of the few companies on the market, Boataround has its own catalogue of directly contracted ships, thereby providing its own verified content, yacht ratings from real customers, best pricing and customer service in 13 local languages. The company was established by the former employees of Booking.com who have accumulated the experience necessary to build such a company as Boataround. Since its establishment Boataround has been experiencing rapid expansion into new markets, with its growth potential far exceeding current market coverage.
About the Slovak Investment Holding
SIH is a joint stock company 100% owned by the State. Its main mission is to support strategic public and private investments in Slovakia in the fields of infrastructure, energy efficiency, waste management, the social economy and small and medium-sized enterprises. Investment funds are drawn from European Structural and Investment Funds. SIH finances projects exclusively in a recoverable form, i.e. using financial instruments rather than a grant.
About Crowdberry
Crowdberry was founded in 2015 and it is the first crowd-investing platform in Slovakia and in the Czech Republic. It is an investment market linking interesting and innovative companies that have already demonstrated the functionality of their business model with private investors (Crowdberry crowd). Crowdberry is the first platform where investors who prefer money valuation in areas that are closer to them can become co-owners not only of start-ups but also of established and profitable companies and from last year also of real estate projects.
Crowdberry not only enables private investors to own a part of the companies that would usually not be available to them, but also through high-quality selecting, preparing and working with companies on the part of the professional and experienced Crowdberry investment team, to help them with the evaluation of their investments. On the other hand, companies will not only gain finance for their further development and growth, but usually also investors who, thanks to their knowledge, experience and network, are actively helping with further growth and evaluation.