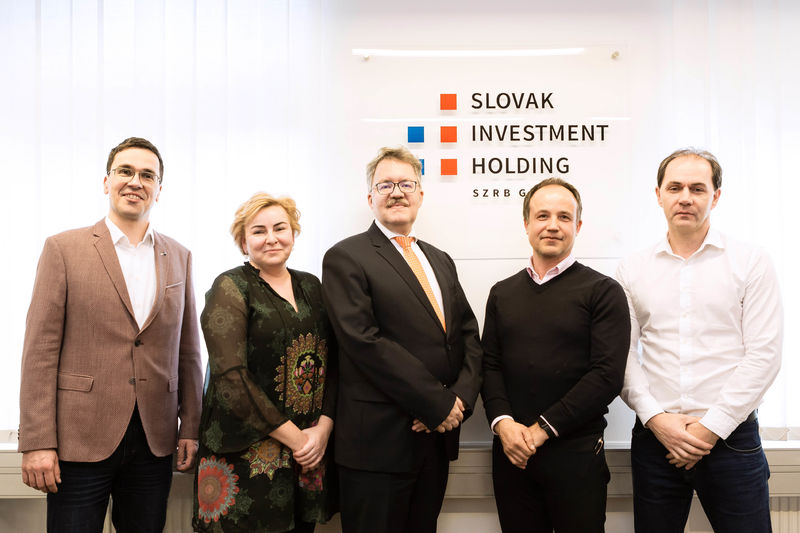 Slovak Investment Holding supports OMNIA KLF
02.03.2020
Bratislava, March 2, 2020 – Slovak Investment Holding (SIH) and ODK Investment made a written undertaking to invest into OMNIA KLF, one of traditional producers of forgings and turned rings in Slovakia. The investment is expected to help the company boost its performance on the innovations front and strengthen its position in the European market.
OMNIA KLF specializes in producing forged pieces for applications in automotive and bearings industries as well as special accessories to be used in other industries, particularly high-precision and complex-mould parts for gear applications, axles, engine parts, races for ball, roller and tapered bearings, special rings for rail cars as well as cases, washers and nuts. The list of its clients includes large international corporations such as SKF Group, Schaeffler Group, Thyssenkrupp rothe erde, Volkswagen Group, Wabtec Group and NZWL, with which OMNIA KLF shares a long history of mutual trade.
"We are happy that besides young innovative firms specializing in cutting-edge technologies, we can also support enterprises that have successfully established themselves as respectable players in more traditional sectors such as metalworking industry, especially if the investment can help the company prepare for its ecological transformation," commented Ivan Lesay, SIH's CEO.
According to Rudolf Sihlovec of OMNIA KLF, "the investment from the SIH and ODK Investment will enable us to address our current strategic market opportunities and thus beef up our competitiveness. Furthermore, we will be able to invest into modern technologies, which should not only allow us to increase effectiveness of our overall production process, but to also make it more sustainable."
OMNIA KLF is planning to increase emphasis on activities in environmentally sustainable market segments such as rail transport, wind power production and electric transportation. Its products are being used, for instance, in wind turbines, which is a market segment with strong growth prospects as the price of electric energy generated by this technology keeps dropping steadily. In the light of automotive corporations' (including those of the VW Group) increasing ambitions to expand their e-mobility segment, OMNIA KLF is hoping to gain a foothold in the field of innovative solutions for electric vehicles' gearboxes.
The company is also focusing on reducing its ecological footprint, for example by improving its energy efficiency and decreasing negative environmental impact from its technological processes.
The SIH investment takes the form of venture capital financing and is sourced from European Structural and Investment Funds, Operational Programme Integrated Infrastructure. The SIH is currently preparing further investments in Slovakia within the sector of innovative small and medium-sized enterprises.
OMNIA KLF
Incorporated in 1990, the joint stock company OMNIA KLF follows in the footsteps of a forgery from the early second half of the 20th century, which became the cornerstone of the bearings industry in Slovakia. In its forte segment, the company currently ranks among leaders in the CEE region in terms of production capacities, breadth of product portfolio and application diversity in various industries. Its product portfolio includes rotation forgings, moulded forgings and turned rings that are used in automotive industry, bearings industry, rail transport and other industries. Its client portfolio (including international corporations such as Schaeffler Group, Thyssenkrupp rothe erde, VW Group, or Wabtec Group) guarantees a competitive advantage and represents a good starting point for its entry into challenging and highly innovative market segments, such as electric transportation, renewable energy production, rail transport, etc.
Slovak Investment Holding
The SIH is a joint-stock company that is 100-percent owned by the Slovak government. Its main mission is to support strategic public as well as private investments in Slovakia in the field of infrastructure, energy efficiency, waste management, social economy, small and medium-sized enterprises, health service as well as culture and creative industry. It draws the funds to pursue its investment designs from European structural and investment funds. The SIH finances the projects exclusively via repayable schemes, i.e. through financial instruments as opposed to grant programmes.