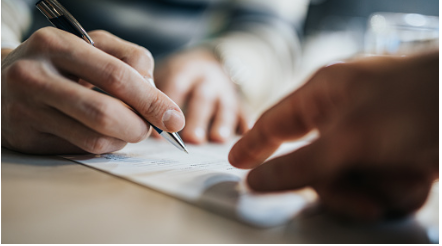 SIH, VÚB Sign Agreement on SIH Anti-Corona Guarantee 2
26.06.2020
Bratislava, June 26, 2020 – Today, the Slovak Investment Holding (SIH) and Všeobecná úverová banka (VÚB) signed an agreement on SIH Anti-Corona Guarantee 2 designed to support Slovak enterprises affected by the COVID-19 pandemic. Following up on the success of its Anti-Corona Guarantee 1, the new programme will be administered in compliance with the approved Temporary Framework of State Aid to overcome the current period of medical and safety measures aimed at curbing the spread of the coronavirus.
"We are extremely happy that just a couple of days after releasing our call for banks to take part in the SIH Anti-Corona Guarantee 2 scheme, we can announce that the first bank has signed the agreement. Všeobecná úverová banka, which has also participated in SIH Anti-Corona Guarantee 1, was the first bank to enter the SIH Anti-Corona Guarantee 2 programme. We expect that other banks will follow suit within days and that our assistance will reach as many clients as soon as possible," said Peter Dittrich, SIH Executive Board Vice-Chairman and Investments Director, upon signing the agreement.
"We are glad that our signing the agreement on SIH Anti-Corona Guarantee 2 will allow us to include an even larger group of clients – besides small and medium enterprises also the segment of big corporate clients – into the guarantee scheme and thus facilitate their access to funding in these difficult times. We firmly believe that our active participation in this financial instrument will enable us to contribute to achieving the overriding objective, which is to preserve and support employment," said Andrej Viceník, Executive Board Member and General Manager of the Corporate Client Division of Všeobecná úverová banka, JSC.
SIH Anti-Corona Guarantee 2
The new financial instrument is supposed to facilitate the provision of bridge loans with a 12-month deferment period on principal and interest. The maximum amount of provided loans with maturity of two to six years is €2 million per loan. The maximum limit on interest rates shall be at 3.9% p.a. for microbusinesses and at 1.9% p.a. for other businesses. Applicable to each loan is a guarantee fee whose amount shall depend on the loan's maturity; however, the fee shall be remitted if the business preserves employment at the pre-crisis level. The beneficiary businesses will be able to use the loaned funds to finance their operating as well as investment costs. 
Eligible to take part in the financial instrument shall be all financial institutions that hold a valid banking licence and are authorised to provide loans in the Slovak Republic. For further information, please visit SIH official website at: www.sih.sk The SIH expects other eligible banks to manifest their interest over the next several weeks and the first loans to be extended in the course of July 2020.